Making the Vegas drive again this weekend.
It's my grandsons birthday (yah). We got him a cool basketball hoop set up and a new ball. He's kind of a jock so anything sports related is cool.
Last year I made him this
I loved making it , and even loved more skating it with him. Its all good.
I dislike the 4 hour drive, but it is what it is.
We aren't leaving until Sunday Morning early (like 4:30 a.m. early). Theres a really cool church we like to go to when we are out there., (I know Vegas of all place right?) but it is pretty rad.
Will hit 1st service at 9:30 and then straight away back to there house for BBQ and B-day party. The evening will be spent with just my wife. We are heading to a show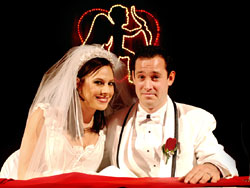 Tony n' Tina's Wedding
It's supposed to be good, and seeing that my wife is of the Italian big family drama decent, it should play out well.
Were staying through Monday to miss the debacle of traffic that happens Sunday night.
I plan on stopping at
http://coatescyclery.com/
on the way back. This is where I was able to land my
Felt F-1 deal at. Not only are they just a cool old school store, the owner is just a flat out great guy.
I haven't been completely impressed with the gear ratio that was set up in the rear. He says bring it buy and I'll swap it out with whatever Dur ace gear set we decide you need, for free. That is some customer service right there. Not only that, he just sent me via the mail my Fizik seat back that wasn't perfect when I picked up my bike.
Tomorrow we have this crazy neighborhood garage sale. I will sell as much unwanted home stuff that I have for whatever price and be overly excited about it. You know you have to have that stuff out at like 7:00 a.m. to satisfy the garage sale buying people. These people are crazy and yet awesome,it's like a sport to them.
That being said, I will help set all this up and then hit the road for a good 3 hour ride before heading home to see how much loot we did or didn't score. From there I'll post a Craigslist curb alert for all the unsold stuff (because I'm not restocking).
Triathlon training has been sparse due to a lack of interest in any particular race. No swimming this week at all, which I have missed. Very little running to speak of which I miss even more. And I will only total 100 miles on the bike. ( BLEH !!) I need to find a tri that peaks my interest. I have some Cycling only races slated but I need that multi sport fix too. Or at least a good 10k running race to focus on. Maybe I'll look at some trail running 10k's for some adventure. Alright that's it.
Train hard,train smart and be healthy.